Ticketing News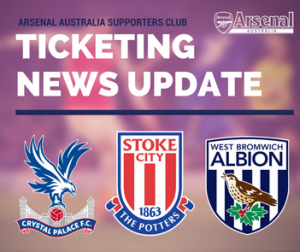 Our new ticketing system is up and running and matches open for application are coming thick and fast. In the premier league applications are up to the home match v Stoke City which opened for applications up to the 29th of September. In the UCL we have finalised applications for the group stage games. Next up will be the round of 16 should we get that far. Our EFL cup home tie v Reading will open in the coming days so please keep an eye on the ticketing section of the website daily to catch the window for this game. The Christmas period matches will start to open early to mid October and the dates of these are below.
V Stoke City
Open now Close 29/09/16
V West Bromwich Albion
Open 06/10/16 Close 13/10/16
V Crystal Palace
Open 14/10/16 Close 20/10/16
If you have submited an application for a game remember to keep an eye on your email folders for an email from is regarding your status.
Please note the auto mailing system from previous seasons is no longer available. In lieu of this we will be sending an email out at the start of each month with upcoming dates of application Windows.
For any queries check out our FAQ on the ticketing page of he website. If your query can not be found on that page then email tickets@arsenalaustralia.com.au
Regards
Michael
AASC Ticketing